The MSXB 014 is now Obsolete. For all new systems, use one of the following instead.
Those with systems using the MSXB014, who need support or upgrades, should contact their system supplier.
Photo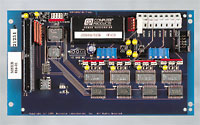 Compatible with
The MSXB 014 Analog Expansion Board provided 4 additional analog outputs. Up to 16 Analog Output Expansion Boards could be connected to a single DAP for a total of 64 additional output channels.
MSXB 014 provided 12-bit resolution. MSXB 022 provides 16-bit resolution.
MSXB 014 required cable MSCBL 036-01. Two or more units may be daisy-chained on cable MSCBL 036-xx.
Available Options
MSXB 014-01: Wago connection points
MSXB 014-02: Wago connection points, external power
MSXB 014-03: screw terminals
MSXB 014-04: screw terminals, external power
Also was compatible with Obsolete ISA boards: DAP 1200a, DAP 1216a, DAP 3000a, DAP 3200a, and DAP 3216a.