When you need many analog inputs
View Photos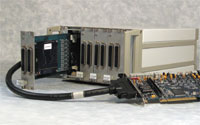 Compatible with
Additional
These Analog Input Expansion Boards provide differential analog inputs. MSXB 060 offers 32 differential inputs per board. MSXB 061 offers 64 differential inputs per board. Up to 4 MSXB 061 Analog Input Expansion Boards can be connected to a single DAP board for 256 differential analog inputs. Multiple DAP boards can be used for higher channel count systems.
The system shown in the photo includes 4 MSXB 061 boards in a half-size enclosure connected to a DAP board: 256 channels of differential input, in a single package.
The MSXB 060 and MSXB 061 provide analog input expansion for Analog Backplane systems. The Analog Input Expansion Board is compatible with the MSXB 030-01 and MSXB 031-01 Analog Backplanes.
Industrial Enclosure Compatible Options
MSXB060-01-E2R: 32 differential analog inputs, right angle HD78 connector
MSXB061-01-E2S: 64 differential analog inputs, 2 right angle HD78 connectors
See Also: MSXB 048: Filtered Analog Input Expansion and MSXB 037 Analog Input Expansion Board