When you need a distributed simultaneous sampling system
View Photo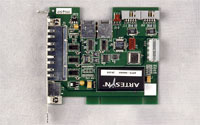 Compatible with
The MSXB 045 LVDS board works with multiple iDSC 1816 boards to provide synchronization for many channels of data. An MSXB 045 board in each of two or more networked PCs, that each contain one or more iDSC 1816 boards, allows the whole networked system to work as a single synchronized system with possibly hundreds of conditioned channels.
MSXB 045 uses cable MSCBL 083-01 and one of MSCBL 084-01 or MSCBL 085-01.
Available Options
MSXB 045-01: transmitter/internal receiver
MSXB 045-10: external receiver only
Obtain additional information from the SCS pages.