Your universal sensor interface solution –
included in SCS products
View Photo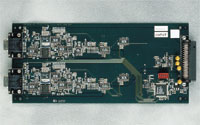 Compatible with
The MSXB 044 expansion board works with the iDSC 1816 to add signal conditioning to the data acquisition and anti-aliasing capabilities. Four MSXB 044 boards are included in each MSSC-8 module. Purchase the MSXB 044 as part of a complete SCS system: an enclosure and 1, 2, 3, or 4 MSSC-8 modules, for a total of 8, 16, 24, or 32 channels.
The MSXB 044 board itself provides direct connection to sensors, and offers many signal-conditioning services in a single convenient package. These include
current sensor excitation: 4 mA at up to 28 Volts
voltage sensor excitation: 1, 2, 5, and 10 Volts at up to 70 mA
quarter-, half-, and full-bridge resistor networks
120 and 350 ohm resistors as standard options
any value resistor networks, sensor by sensor
10 full-scale options: +/-10 mV, +/-20 mV, +/-50 mV, +/-100 mV, +/-200 mV, +/-500 mV, and +/-1, +/-2, +/-5, and +/-10 Volts
programmable gain with auto-calibration
programmable AC/DC coupling for ICP sensors
Industrial Enclosure Compatible Model
Obtain additional information from the SCS pages.