Available only by special order. For all new systems, use one of the following instead.
View Photo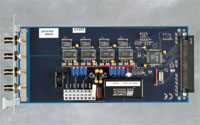 Compatible with
Additional
The MSXB 032 Analog Output Expansion Board converts digital inputs from a Data Acquisition Processor into four separate analog outputs. Up to 16 Analog Output Expansion Boards can be connected to a Data Acquisition Processor for a maximum expansion of 64 analog output channels. The MSXB 032 is compatible with Microstar Laboratories Industrial Enclosures.
The Analog Output Expansion Board connects to the Data Acquisition Processor's digital connector. If digital input/output is needed in addition to analog output expansion, a Digital Expansion Board is required.
There are several cabling options for the MSXB 032 Analog Output Expansion Board. The MSXB 032 may be connected to a DAP using various 100-line cabling options, or can be installed into a Digital Backplane.
Bare Board Options
MSXB032-05-C3Z: Wago terminals
MSXB032-06-C3Z: screw terminals
Single-Board Enclosure Options
MSXB032-05-C3C-B: Wago terminals, enclosed, 20 insulated BNC termination panel
MSXB032-05-C3Y: Wago terminals, enclosed, blank termination panel
Industrial Enclosure Compatible Options
MSXB032-05-E3E-B: Wago terminals, 4 insulated BNC termination panel
MSXB032-05-E3Y: Wago terminals, blank termination panel