When you need high channel-count simultaneous sampling
View Photo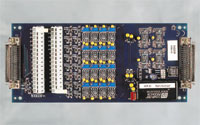 Compatible with
Additional
Simultaneous Sampling Boards are used in multichannel spectral analysis and other applications that require simultaneous acquisition of several channels. The MSXB 028 usually is used for applications that require interchannel phase measurements such as applications that perform transfer function computations. This board eliminates phase error introduced by sequential sampling.
Up to 16 boards can be connected to a DAP for a total of 256 channels. The MSXB 028 is a 12-bit board. If you need 16-bit simultaneous sampling, take a look at the iDSC 1816.
The a-Series Simultaneous Sampling Board requires cable MSCBL 040-01 or MSCBL 041-xx.
Bare Board Options
MSXB028-01-A2Z: Wago terminals
MSXB028-02-A2Z: Wago terminals, external power
MSXB028-03-A2Z: screw terminals
MSXB028-04-A2Z: screw terminals, external power
MSXB028-05-A2Z: Wago terminals, vertical input connector
Single-Board Enclosure Options
MSXB028-01-A2A: Wago terminals, enclosed, 68-line termination panel
MSXB028-05-A2C-B: Wago terminals, enclosed, 20 insulated BNC termination panel, vertical input connector
MSXB028-05-A2Y: Wago terminals, enclosed, blank termination panel, vertical input connector
Industrial Enclosure Compatible Options
MSXB028-01-E2A: Wago terminals, 68-line termination panel
MSXB028-05-E2C-B: Wago terminals, 20 insulated BNC termination panel, vertical input connector
MSXB028-05-E2Y: Wago terminals, blank termination panel, vertical input connector