Photo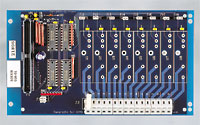 Compatible with
The MSXB 016 Opto-Isolator Board allows quick and secure connection of discrete wires at high DC and AC voltages to up to 8 separately available optically isolated digital switching/sensing modules. Each channel may be configured for input or output. Modules are available that can sense 280 VAC and 280 VDC, and that can switch 280 VAC @ 3 amps, 60 VDC @ 3 amps, and 200 VDC @ 1 amp. MSXB 016 handles only digital inputs and outputs.
MSXB 016 requires an MSCBL 036-01 cable.
Available Options
MSXB 016-01: Wago connection points
MSXB 016-02: screw terminal connection points
Also compatible with Obsolete ISA boards: DAP 1200a, DAP 1216a, DAP 3000a, DAP 3200a, and DAP 3216a.