Your DAP 840 quick-connect solution
View Photo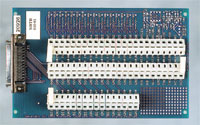 Compatible with
The MSTB 010 Termination Board allows quick and secure connection of discrete wires to a DAP 840. MSTB 010 combines analog and digital termination on the same board, and is the only termination board that can be used by the DAP 840.
MSTB 010 boards includes locations for voltage divider resistors and 0-20mA termination resistors. Models include onboard cold junction compensation circuitry for thermocouple applications.
Cable MSCBL 048-01 or MSCBL 050-01 is required.
Bare Board Options
MSTB 010-06-C1Z: Wago connection points, right-angle connector
MSTB 010-06-D1Z: Wago connection points, vertical connector
MSTB 010-08-C1Z: screw terminal connection points, right-angle connector
MSTB 010-08-D1Z: screw terminal connection points, vertical connector
Single-Board Enclosure Options
MSTB 010-06-C1C-B: enclosed, 20 insulated BNC connections
MSTB 010-06-C1Y: enclosed, Wago connection points, blank panel