When you need analog inputs protected from noise
View Photo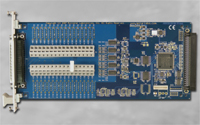 Compatible with
Downloads
The MSXB 084 Isolated Analog Input Signal Interface Modules provides isolated analog inputs for DAP systems. Use these modules to eliminate ground currents – a potential source of noise in your measurement and control signals – and eliminate timing skew.
MSXB 084 includes 16 differential analog inputs, with a shared ground, isolated from the PC. Each module offers high signal density and enables high channel counts. MSXB 084 has per-channel software selectable gains of 1, 2, 5, and 10. If you require groups of simultaneous isolated inputs, you can use multiple modules. Contact Applications Engineering at Microstar Laboratories for assistance.
Each board can acquire data at 333k samples per second.
Up to eight Isolated Analog Input Signal Interface Modules can be connected to a single DAP board for a total of 128 analog inputs.
MSXB 084 is installed in an Industrial Enclosure and uses a DB-37 connector or Wago terminals.
Industrial Enclosure compatible models
MSXB 084-01-E3K: DB-37 panel
Other panel options are available.
Stand-Alone and Single-Board-Enclosure models
Channel-to-PC Isolation – MSXB084