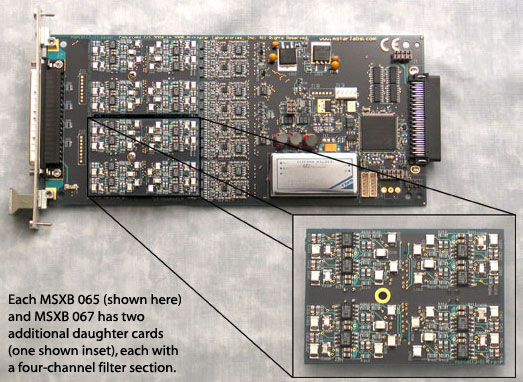 Microstar Laboratories offers most signal conditioning/sensor interface products in two versions: with and without analog anti-alias filters. The anti-alias filters - on attached daughterboards - allow a wide selection of cutoff frequencies. For a sharper cutoff, or for programmable frequency response, follow the analog anti-alias filter with a digital FIRFILTER implemented in DAPL.
If your signal includes unwanted frequencies above half the sampling rate - above the Nyquist frequency - then order the version of the signal conditioning/sensor interface product with analog anti-alias filters. This guarantees that your sampled data will not include alias frequencies that corrupt your results. When you order, choose the cut-off frequency appropriate for your application.
The daughterboard can be changed to adjust the cutoff frequency. Filter modules may be changed in the field, with only a small offset error. The available cutoff frequencies are 100 Hz, 250 Hz, 500 Hz, 1 kHz, 2.5 kHz, 5 kHz, 10 kHz, 25 kHz, 50 kHz.