You never stand still, DAPstudio keeps moving with you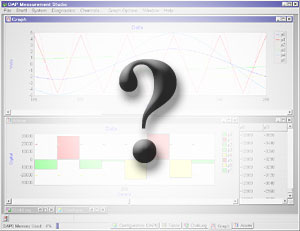 Request a Feature
Interested in new developments? Want a specific feature? Contact your Sales Representative and let us know what you want.
Beta Test
Active DAPstudio user? Want to test new features pre-release? Contact your Sales Representative and join the next beta program.
In future releases expect new tools – like expanded user interface customization – based on what you see in DAPstudio 3.02, to support the rest of your data acquisition and control application development process.
In past releases you saw:
v. 1.00 - Fundamental configuration tools
v. 1.50 - Interactive displays of results
v. 2.00 - More display types, more display options
v. 2.50 - Bi-directional data transfer, live data displays
The current DAPstudio 3.02 release lets you
use user input controls for run-time application configuration,
design custom display windows,
easily handle multiple log files.
To try out the new features, launch the program and give it a try.
Be sure to check here from time to time for the latest information about new program features.