What's new for DAPstudio 3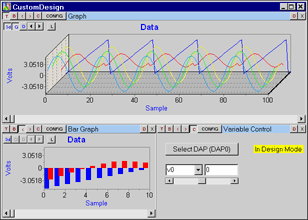 DAPstudio Version 3 makes development easier for you in several ways.
User input controls for run-time application configuration
Custom design windows
Easily handle multiple log files
In this release, we have:
extended the live data display capabilities to allow user input controls for run-time application configuration,
added custom design windows that allow you to embed different visual displays into a single window and – using multiple custom design windows – create a complete user interface,
added the new root path configuration option for Disk Log windows so you can rapidly re-direct all of the log files in your application,
added a feature where one Data File window now handles multiple files, simplifying configuration when viewing many data files within a single application.
Take a look at the details about new features included in this and previous versions.
DAPstudio 3.02 was posted to the Web site April 20, 2010.