Acquire, record, and analyze your data – quickly and easily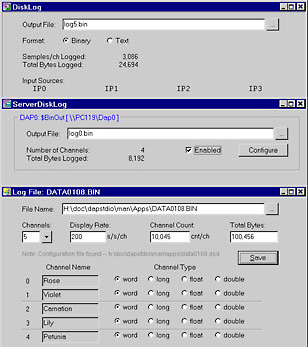 Manage massive files of acquired data, and access any block of logged data with a few clicks of your mouse.
– log data to disk at rates up to maximum
– review results online without leaving DAPstudio
With its highly efficient data retrieval, DAPstudio allows you to review even multi-GB files effortlessly.
Anyone can use the DAPstudio evaluation program to view data for free – simply download it from our Web site. Send your DAPstudio DMS configuration file and your logged data file to a colleague, and that colleague can use DAPstudio to reproduce the same dynamic data displays that you saw as the data were captured.
With DAPstudio's built-in support for DAPcell Server Side Disk Logging, you can collect data from multiple channels, from one or multiple Data Acquisition Processor boards, and route that data to directly to disk storage. Combined with DAPcell Server software, you can interconnect multiple such data collection stations and route data to disk cluster stations anywhere on your network. The capacity of such a system is limited only by number of networked stations you can provide.