DAPstudio: Onboard intelligence at your command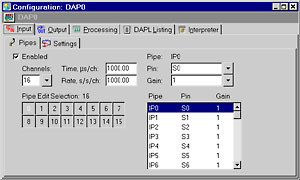 Use the Configuration window to simplify the DAP board input, processing, and output configurations and filter design process. On the tabs you can:
Input: Set up your input channels.
Output: Set up your output channels.
Processing: Set up your onboard real-time processing.
DAPL Listing: Display the DAPL commands that summarize all of the selections made on the Input, Output, and Processing tabs. When you start your application, the contents of the DAPL Listing edit box are sent to your DAP board.
# Interpreter: Display any text data or message, including warnings and errors, if any, returned by your DAP board.